Almost every big company is coming up with pay per view events these days. These events are not aired for free and one must pay to enjoy them. One can even order them online. Casinos are considered a good place to watch PPVs because of the ambiance and crowd.
Most companies have monthly pay per view events that cater to a certain target audience. Wrestling, boxing and mixed martial arts pay per views are very famous, not just in North America but around the world. During pay per view weekends, (they are normally held on weekends) casinos are full with fans watching their favorite sport.
Wrestling extravaganzas, such as Wrestlemania, a yearly event, is watched every year in more than 150 countries on pay per view. People pay to watch superstars slug it out in the ring. The company, World Wrestling Entertainment, comes up with unique ideas to boost purchase rates. Special promotions are done online. Casinos try to cash in on this opportunity by airing these PPVs.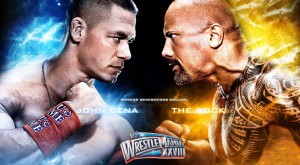 At Wrestlemania XXVIII, we witnessed the epic return of the most electrifying man in sports entertainment, The Rock (Dwayne Johnson), who is now a well-known actor. The former wrestler stepped again in the squared circle to face the face of the company, John Cena. The match that won rave reviews from critics and fans brought back the nostalgia.
The event turned out to be a major money spinner, with an estimated buy rate of 1.5 million (worldwide). The gala event that was attended by people from different countries was watched live in countries like America, England, Australia, Saudi Arabia and Germany.
Now, these big corporations are not only aiming towards topping the rating charts, but also towards making money by enhancing the buy rates. They save the biggest matches for pay per view so that more and more people watch the event.
UFC, a mixed-martial arts company, is giving wrestling tough competition. A legit sport, it ousted WWE from the game by giving bigger matches and using better marketing strategies. Brock Lesnar, a former WWE performer who just made his return to the 'E, turned out to be one of the biggest draws in UFC history.
Pay per view events are equally famous in boxing too. However, they are not that dramatized. The WWE and UFC use tactics to gain people's attention; whereas, boxing rests solely on the competition and the matches. However, looking at current trends, this is bound to change soon, as boxing is also planning to widen its horizon and cater to the masses by introducing gimmicks and other attractions.
Companies use celebrities, special promotions and performances by big names to attract more people. Wrestling, undoubtedly, tops the charts when it comes to glamorizing the events. This is more due to the presence of divas and the fact that it is scripted, which allows more fun play.
Given the big money it offers, it's predicted that soon more sports will enter the pay per view market, giving tough competition to others.